To renew your domain name, you must first log into your Client Area. For assistance in logging into your Client Area, please watch this video.
Invoices for domain name renewals are generated weeks prior to the domain name expiring and notices are sent to the email address associated with your account. You can pay the current invoice which is usually for a 1 year renewal or you may manually renew your domain for multiple years.
You receive discounted pricing when manually renewing your domain name for more than just one year. To do so, simply log into your Client Area and click on the menu item titled Domains, then Renew My Domains.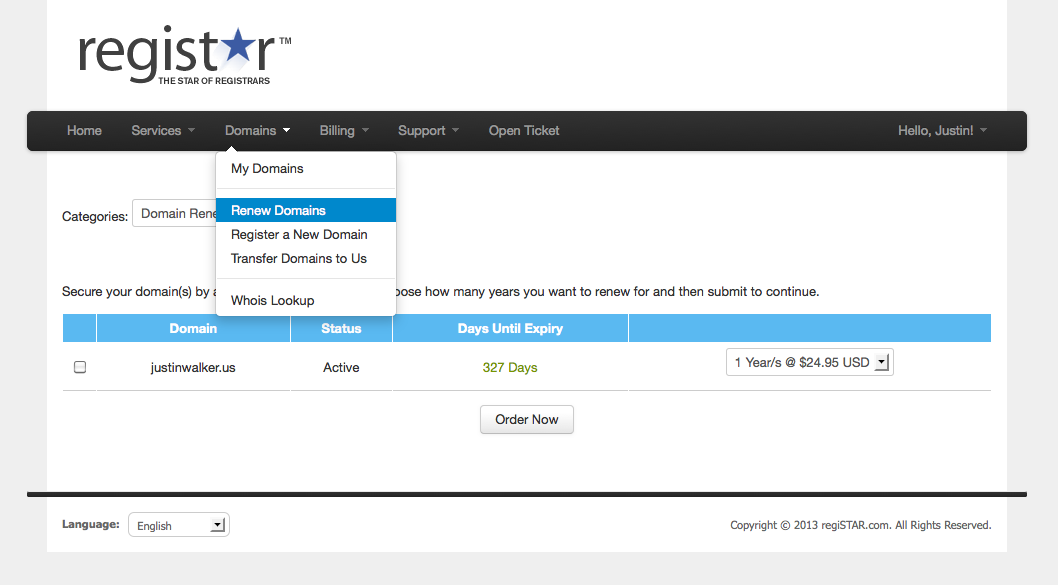 To the left, click on the checkbox for the domain name(s) you wish to renew. Then to the right, from the dropdown, select the number of years you wish to renew for. The more years you chose, the more you save.
Next simply click on the Order Now button at the bottom of the page and follow the prompts to the checkout page.
After manually renewing a domain name for multiple years, any system generated invoice will be automatically be cancelled and a new "paid" invoice will be generated.
If you have your domain name set to auto renew, you must have an existing credit card on file. To update your credit card information, please read "How do I update my credit card information?" as well as "How do I enable or disable Auto Renew".